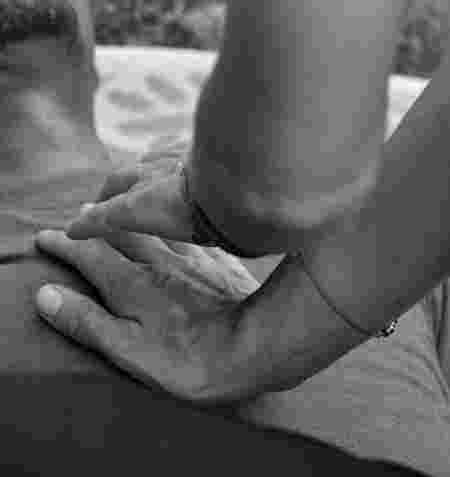 Thai Yoga Massage
2 Days Intro Workshop for Beginners
mit Lea Frei & Dmitry Vatagin
In this workshop we focus on using breath and bodyweight to build confidence, to explore and play with moving massage – dancing with our partner. You will get to know a basic idea and learn about the beauty of Thai Yoga Massage.
Sa 18.08.2018
09.00 – 12.00
14.00 – 17.00
So 19.08.2018
09.00 – 12.00
14.00 – 17.00
Preise
Normal

200.–

Reduziert

180.–

Unlimited

160.–
Bitte anmelden
Informationen im Überblick
The simple flowing sequence that will be shared, allows you to give a nice well-rounded massage that you can share afterwards with your family and friends.
Centuries ago, a dynamic bodywork therapy was born in Buddhist temples of Thailand. Traditional Thai Massage is an ancient healing system, rooted in the Indian healing tradition of Ayurveda. It combines broad and targeted acupressure, stimulation, manipulation of energy lines and assisted yoga postures. Oils are rarely used; the recipient remains clothed during a treatment. There is constant body contact between the practitioner and client, but rather than rubbing on muscles, the body is compressed, pulled, stretched and rocked in order to clear energy blockages, relieve tension and balance the body energetically. Truly wonderful is the experience for both giver and receiver as boundaries dissolve and deep healing occurs in a space of presence and meditation.
This workshop is open for everybody. If you have no prior experience of massage or other kind of bodywork you have found the right place to start along your path. But still if you already have practiced Thai Massage this workshop will be a chance to review your skills and get some new inspiration.
Dmitry Vatagin and Lea Frei have learned the art of Thai Massage from masters of the subject in Thailand. Every year they spend several months in Thailand to deepen their knowledge. They give courses and workshops in Asia and Europe, where they share their experience.
Teaching Language: English and German